Winter Show 2016 The Best of Show winner is the
wonderful oil painting "Carson River" by Sher LeGault.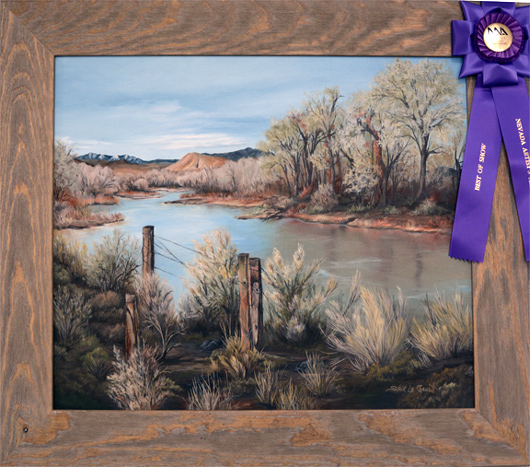 Congratulations! Sher was kind enough to share her thoughts about her art and a little
about her life.
1. What was your inspiration for your painting? "Carson River" – The river itself inspired me. I took several photographs at the location and just loved the movement and colors in the river and surrounding area.
2. Where do you live? I live in Fernley, NV. And have lived there for over 20 years in the same house.
3. How long have you been painting? For quite some time, although not on a regular basis until 2008, when I retired, after working over 20 years for First American Title Insurance Company as a Manager and Senior Escrow Officer. I have a studio in my home and paint only when something inspires me (which is often).
4. Why did you choose oils rather than another media? I really like the feel, texture, brilliance of color and smell of oil paints. I love being able to work on a painting for several days without the paint drying.
5. Are you self–taught? Some, however I have been very, very fortunate to paint with and be taught by several professional artists. One of my early instructors was and is a Certified Master Painter, Certified by the University of Mexico in Mexico City, the next instructor was and is a professional artist who displays and sells his artwork in the Wyland Galleries in Hawaii and the more recent was with professional artist Gary Jenkins, with whom I studied in his home when he lived in Carson City. So I have a variety of instructors, each very different from the other.
6. Do you work in any other medium? On occasion I will incorporate acrylics into a painting, when I am looking for a quick back ground or something splashy or different. But I rarely ever complete a whole painting with acrylic paints.
7. Do you have a favorite subject to paint? Currently I am painting scenes of rural "Nevada". The Nevada desert, old buildings and the rivers all intrigue me, along with the bright sunlight and contrasting shadows. I have painted portraits, animals, florals, landscapes and whatever tickled my fancy at the time.
8. Do you show your work anywhere else? Currently I am showing a few pieces in a local (Fernley) restaurant and real estate office. I had several pieces in an art gallery in Fallon for about a year and a half; however the owner decided to give art lessons and closed the gallery towards the end of 2015. Two of my larger paintings were sold from the gallery. I am currently looking for gallery representation.
9. Please add any additional information about yourself or your art that you would like to share:
Most of my artwork is oil on canvas. On occasion I may paint oil on wooden
panel board or I may use acrylic in the background with the actual painting completed with oil paints. Many of my paintings reflect the bright colors of the sky and desert. I employ a realistic style but reserve an artistic license to deviate from the norm on occasion.
Contact information: Sher LeGault, email: sher4art@sbcglobal.net
P. O. Box 942, Fernley, NV 89408 775-750- 2992 Cell 775-575- 2113 Home