August 1, 2016 – September 9, 2016
The Nevada Artists Association Gallery has announced its winners for this years annual Photography exhibit.  Local and regional photographers, NAA members and Non Members, were invited to enter their photos for this judged event.  The artists reception for will be held in the gallery on August 13, 6-8 pm
Peoples Choice: From the "Spirit of America" Show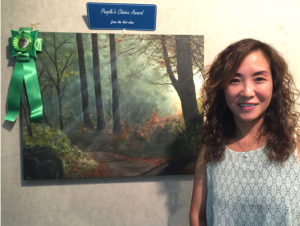 "Morning Sunshine"by Alice Winslow
This was strictly a Photography Show, Digital Art was not allowed in this judged show.
Please read the definitions below for a little more insight.
Photographers and Digital Artists – Definitions/criteria for photography and digital art are in effect at the NAA.
Is it photography or digital art?  The executive board of the NAA will be using the following definitions to determine whether an art piece should be classified as photography or digital art.
Photography: Photographic image (s) captured by the artist. May be digitally enhanced but no digital generated images or renderings, digital painting, or images not taken by the artist.
By this definition an artist would be able to combine images in photography, use Photoshop, enhance, or change a photograph, but would not be able to use digital non-photographic images or renderings.
 Digital art: Digital Art is an artistic work or practice that uses digital technology as an essential part of the creative presentation process. It is typically a compilation of multiple photographs, sophisticated photo collages brought together and enhanced through a wide range of techniques. The images used in the composition do not necessarily have to be created by the artist; however the artist must have permission to use images in the composition.