La Vonne La Tulip Vasick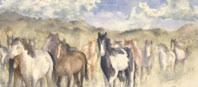 Profile
La Vonne La Tulip Vasick lives with her husband, David, over the ridge from Lake Tahoe, nestled beneath the towering Sierra Nevada Mountains. In her home studio, which overlooks the ranching community in the Carson Valley, she produces original paintings and limited-edition fine art giclée prints and exhibition-quality canvas. Her medium is transparent watercolor and she is a versatile painter of unique impressionist landscapes, flora and wildlife.
"Lighting, atmosphere, and the expression of spirit and emotion are all critical elements to my work. I invite you to experience the textures, sounds, and fragrances of the Sierra Nevada through an imaginative immersion in my art."
PHONE: 775.309.3162
WEBSITE: NevadArtbyLaVonne.com
EMAIL: [email protected]
775.309.3162
ARTIST-STATEMENT:

When I was growing up in the Midwest, the only girl in the middle of six brothers, my mother saw a creative spark in me and kept me out of trouble by providing a variety of art supplies for those occasions when I needed a "time out." Even when I wasn't in trouble, I often choose to be creative with paints and various crafts. I continued my creative path and studied Graphic Communication at Platt College in San Diego, which put me on the road to professional marketing. Enjoying nature, I moved my young family to live near Lake Tahoe in the Sierra Nevada mountain range. Over the years I explored and grew to love this vast, rugged area and its historic significance. That landscape continues to influence my work. I invite others to experience the textures, sounds, and fragrances of the High Sierra through an imaginative immersion in my art.
I am fortunate to have studied with other Nevada artists who have mastered glazing colors. One, whom I call "the 'artist whisperer," helped me to give a free rein to my creativity. My husband's support, a mentor's encouragement, and my own unwavering faith that my talent is God's gift, continue to encourage me to pursue my passion for painting.
I am influenced by seasonal light and how it changes the appearance and atmosphere of each subject, altering textures and forms and layering complexity. I am attracted to the silent beauty of the snow. The challenge of capturing wildlife action is alluring, and I am similarly drawn to Nevada history and ranching scenes.
I enjoy the challenge of painting the complex textures, forms, and patterns found in nature, such as the bark of trees, the perfect placement of petals, dust from the motion of horses, the atmosphere of a snowy day, and the color pallet of our western sunrises and sunsets.
Watercolor is a challenging and unforgiving medium, but also immeasurably rewarding. I allow the painting to reveal itself, to emerge. My methods are often unconventional. I tend to push the limits of paint and paper. I compile photographic composites before sketching the design on paper. I use a glazing process, applying layer upon layer of color, and I may texture the surface to capture natural variations. I use a limited palette of four colors, opaque and transparent, the colors and tones of Nevada, and 300# rough paper to hold up to my techniques.