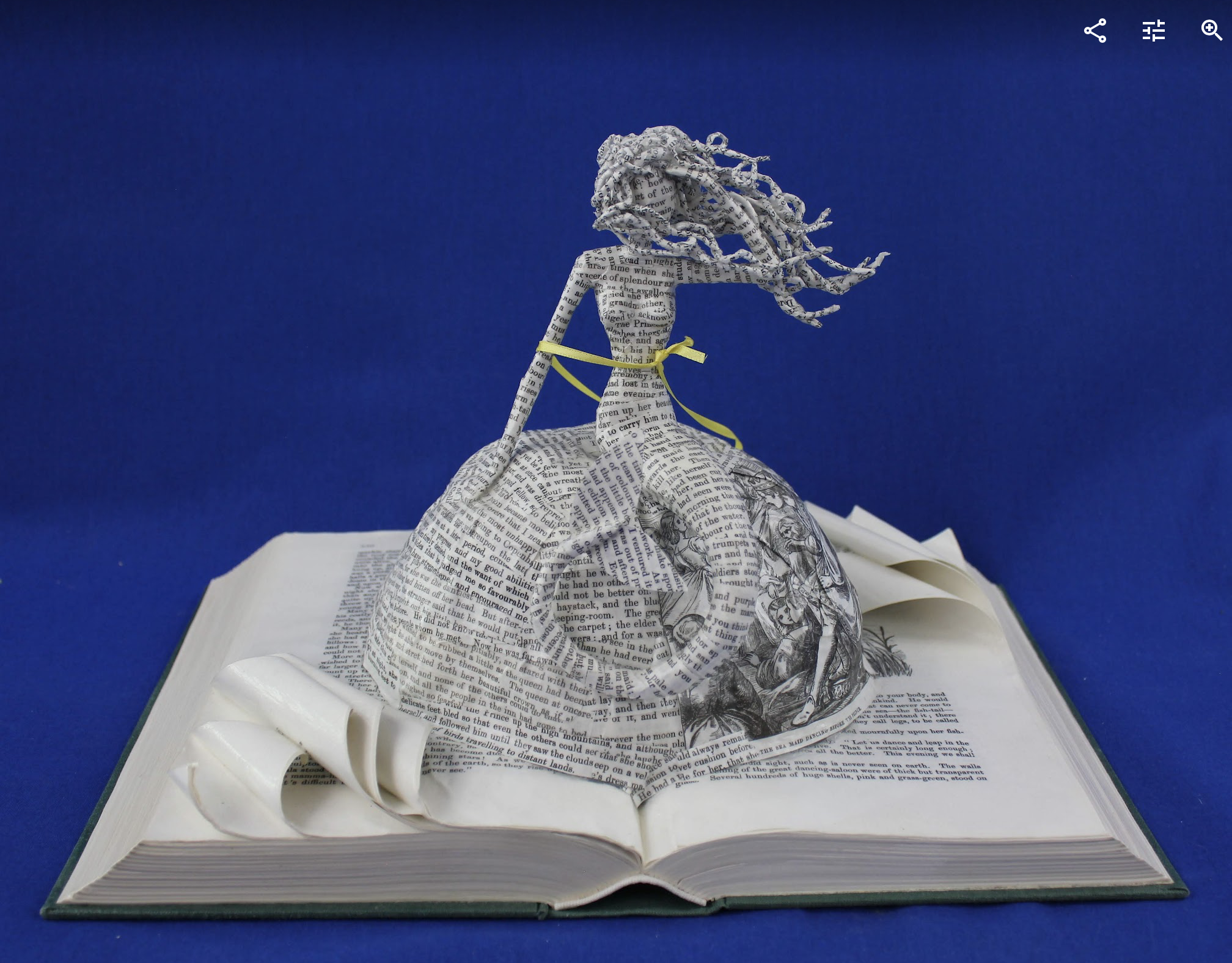 Bringing a book to life through its pages and allowing it to come alive through its pages is what Debbie Lambin truly enjoys doing with books new and old! The art of taking books that are slated for disposal to cherished books that line a beloved library is what we love to do.  
Debbie Lambin has been an artist for over 35 years working in several art mediums from watercolor, printmaking, and sculpting to now paper, books and incorporating books. Debbie is interested in combining this art and creating recycling into public art sculptures.  
She has worked with her daughter Rachael and also son John-Henry in taking a book and carefully removing the pages from it and would twist, crumple and manipulate the pages until they began to resemble a character from the story in the book. A very exciting method of recycling, repurposing and making beautiful art from these books.  Every piece of art is "one of a kind" and special to whoever happens to enjoy the love of books and art.  
After a 20 year career in the computer industry as a programmer, writer, professor, and business owner, she and her husband David decided that homeschooling was a better option for their growing family. As she left the world of business, she began opening up to be more of a teacher in all disciplines as well as sharing her long-loved art with her children and her community. As an artist, teacher, businesswoman, she found her delight in teaching her special art to all that wanted to learn and is involved with the Nevada Art Council, as part of the artist roster, started NVArtStops, a Nevada Art Council group BRX (Basin Range Exchange) a tour that travels throughout  Nevada exhibiting art, teaching and more. Their artwork was selected and used for the 2019 Artown publicity poster and marketing. Their artwork has been featured in several media publications from Tahoe Magazine, building a 6-foot sculpture of Lake Tahoe using over 8 magazines, KNPBs "ArtEffects" show, local and national newsprint, books and more. They have been commissioned by several businesses including Reno/Sparks Chamber of Commerce, DAR  (Daughters of the American Revolution) 100th year, Western Nevada  College foundation gala, and so many more. Debbie is finishing her second book, an autobiography of how she started – My Thousand Words book sculptures and more. Her first book was a fairy tale book that used photographs from the books her daughter and her designed. 
Debbie has been an instructor at Western Nevada College as well as several schools, community centers and more. She even taught at a Burning Man workshop in 2021 and travels to Las Vegas several times a year installing art exhibits and more. Debbie has a BA in Marketing, PR and Art and is finishing up her Masters in Art. She has won  several art competitions in northern Nevada as well as southern Nevada.  Currently, will be on exhibit in Las Vegas obtaining over 8 locations that will include workshops for the community.  
Debbie is married to David for over 36 years, she has three children, Jeff, a pastor at Silver Hills Church in Carson City. A daughter-in-law Christa, and two granddaughters Abigail and Elaina. Her other two children, Rachael and John-Henry, are both finishing medical school at University of Nevada Reno, specializing in surgery and OB/GYN. She  lives in the Carson City area for almost 5 years along with their two  pugs, Mercedes and Bentley.  Debbie's art can be found on either www.MyThousandWords.com or  www.LambinArts.com or their travels www.NVArtStops.com