I'm Painting again, finally!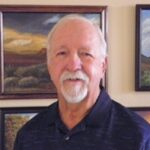 Ken's love of art started in high school. Majoring in Art, it continued into college where he attended the California College of Arts and Crafts in Berkeley, California. He started a family early in life and put away the paints for almost 45 years. When the COVID Pandemic came along and even outdoor activities were shut down, he picked up the brushes and paints and started painting again, finally! 
He has grown his subject matter from just landscapes to include animals, pets and other subjects. Living in Nevada with the great diversity of landscapes, colors and textures, he is always trying to capture nature's emotions and moods. A new adventure is just around the mountain.
                                           KenClarkeArts.com