Come to the Membership meeting at 10am Saturday, March 18th and stay for the
Free Watercolor Demo by Colleen Reynolds at Nevada Artists Association Gallery at 10:30am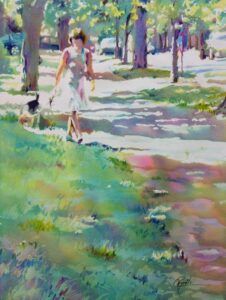 Everyone Welcome!
Light Walkers by Colleen Reynolds
Event Date: March 18, 2023 – 10:30am
Nevada Artists Association is proud to present "The Art of Pouring Brusho" a free watercolor demo by renowned artist Colleen Reynolds.
Colleen Reynolds will demonstrate her approach to pouring watercolor using a crystallized watercolor medium called Brusho. Interested attendees may also have the opportunity to "play" with the Brusho medium after the demo!
Place: Nevada Artists Association Gallery, 449 W. King St, Carson City
Ages: 13 years and up
Questions: Call the gallery at 775-882-6411 or email us at [email protected]