"GOING WITH THE FLOW"
FREE FLUID ART DEMONSTRATION
Saturday, June 10th, 10:30 am

Presented by Charlene (Char) Hadwin
Ages 13 and up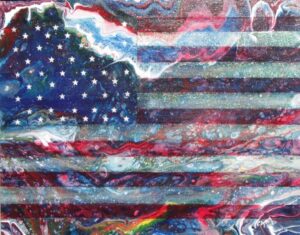 Artist Char Hadwin will explain various techniques in this emerging art form while creating unique abstract art!  Discover the newest techniques used in fluid art, and learn about the dirty pour, swipe, balloon smashing and
other flow methods.
In 2016, Char formed "Amagical Art" to showcase her art and offer new inspirations for purchase.  Char's preferred medium is "mixed" – using acrylic paint and adding discarded jewelry, broken glass, then finished with resin.  She uses many different styles and techniques in her art that creates unique one of a kind abstract pieces.  She has her collection series, her upcycled wood pallets, and her work with resin and glass.
Questions?  Contact the NAA Gallery  775-882-6411
Email:  [email protected]
Visit Char's website at www.amagicalart.com