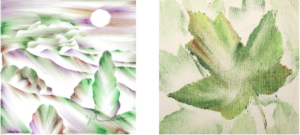 Oil Pastel Smudge
Please join Carol Foldvary-Anderson to create unique, fun, and surprising art from working in this technique in this class sponsored by Nevada Artists Association.
Description: In this class Carol Foldvary-Anderson will show you how to create unique art, looking like watercolors, and even silk paintings, depending on the colors you choose to work with. The Oil Pastel Smudge technique is thinking in the basic shapes and designing your own templates.
All papers and some oil pastel colors (during class time) will be provided.
April 23rd from 1-4pm
Adams Hub, 111 W. Proctor Street, Carson City
Bring Scissors
Class Price: NAA Members $45.00 (supplies included)
Non-Members $50.00 (supplies included)
Carol is a Roster Artist with the Nevada Arts Council. She has received numerous grants for her Oil Pastel Smudge technique. [email protected]
To Register: Click on the "Buy Now" button below
or come into the gallery at 449 W. King Street, Carson City
For questions call the gallery at 775-882-6411
Tuesday – Friday 12pm-4pm