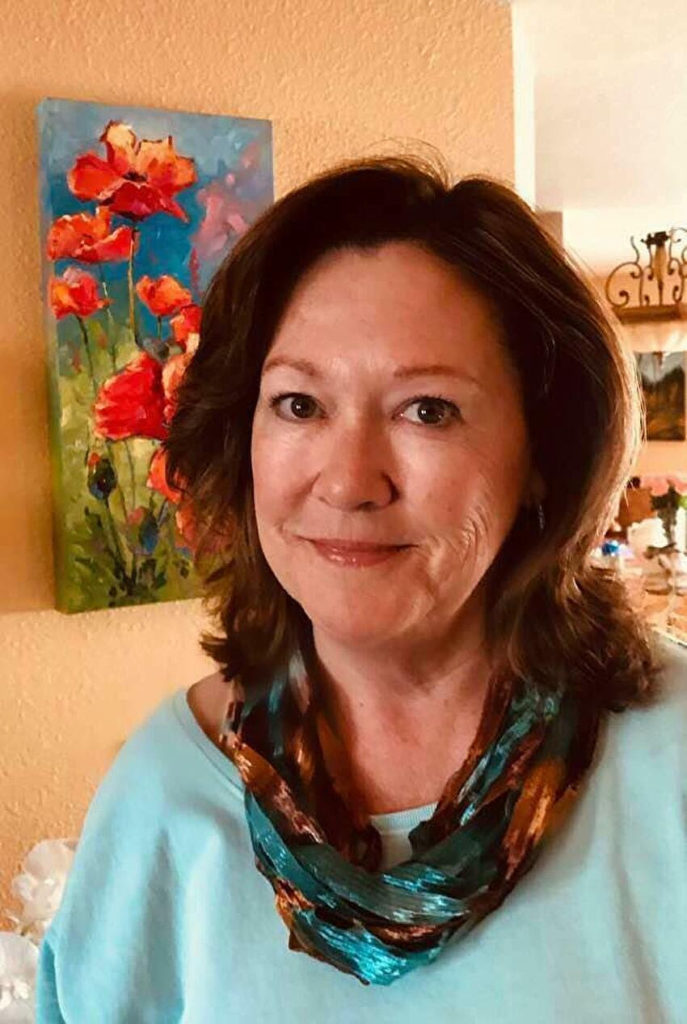 Mary Purdy Gmuender is an award-winning artist known for wild animal portraiture, mountain landscapes and florals. Living in the beautiful Carson Valley of Nevada with her husband and two sons for almost 30 years, Mary enjoys exploring the Sierra, scouting new painting subjects and locations. "Growing up as both an Air Force brat and a member of the Caddo Indian Nation of Oklahoma, I found my joy in discovering beauty in new places and trying to capture them in drawings.
As much as I wanted to follow my art dreams, survival and practicality took over and I moved to Colorado to work in the ski industry. Working outdoors every day for 10 years brought an appreciation of the beauty in high places. The shadows of the trees on snow, the line of the mountain ridges, and the high altitude cornflower blue skies were always inspirational, even as I worked on towers as a ski lift mechanic or supervising personnel."
Since 2012, Mary has honed her oil painting skills and knowledge studying under many well-known artists, taking classes and workshops, both locally and throughout the country. She loves to paint the wild and free places and faces of the natural world. Lake Tahoe, Hope Valley, Carson Valley, Northern Nevada and Yosemite have become common subjects and provides endless creative influence. Inspired by color and reflected light, her landscapes and wildlife are interpreted in an impressionist style using a bold palette and loose brushstrokes.
"The cadmium greens of Spring, the unbelievable cerulean blue of Tahoe and the Indian yellows of quaking aspens are all found in northern Nevada. Nature gives us the perfect palette. I love to challenge myself to see the colors of nature and interpret them on canvas, with lively shadows and reflected light. With the quality of our high altitude air, there is no better place to spend time outdoors and see the abundant reflected light bounce off nature's elements: rock, sage, water, trees and the wildlife of these places. It's pure magic. Hopefully, my art will bring awareness and encourage the stewardship needed to protect these wild places and faces."
"I enjoy painting en Plein air, as it gives me a fresh perspective at the true colors nature provides and trains my eye to see the nuances. However, misadventures do occur painting outside, like the time I left my wet painting on a log and a squirrel ran across it, leaving his own natural interpretation. I've had my whole easel fly away in a gust of wind, and Tahoe sand blown across a wet painting, leaving a texture I couldn't erase. You just have to laugh! It's been a true blessing in my life to explore this creative passion and share my art with customers and other artists."
Her paintings have won awards in juried art shows and have hung in several galleries including the halls of the Nevada Legislature, Nevada Art Association Gallery in Brewery Arts Center, Friends of Nevada Wilderness during Artown, Hope Valley Café, Cottonwood Creek Gifts, Studio Meraki, Eureka Restoration Enterprise, East Fork Gallery and Art [email protected]
Contact Mary at: [email protected]
website: marypurdygmuender.com